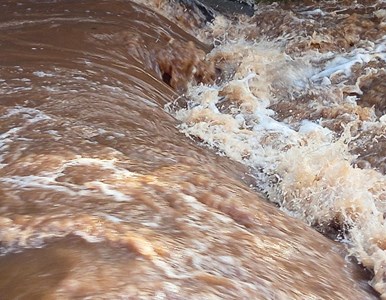 Council Scrutiny Committee Looked Into River Pollution
Mid Devon District Council's Motion 583 - Protect Rivers and Seas
At Council 26 October 2022 it was resolved to ask the Scrutiny committee, or other appropriate committee, to invite a senior representative of South West Water (SWW), the Environment Agency (EA) and Natural England (NE), to attend a meeting to answer questions on the current levels of sewage discharge. River catchments are easily polluted from sewage installations (managed by regulations and permits) and also from 'diffuse' pollution entering water from surrounding landscapes.  
Responses and discussion at Scrutiny Committee
Scrutiny Committee 16 Jan 2023 was attended by Mark Worsfold from South West Water (SWW). Questions and Answers noted in the Minutes (page 30). SWW encouraged the Council to provide input to their Drainage and Wastewater Management Plan. 
The Environment Agency (EA) was unable to attend but emailed in reply, to summarise their role in relation to SWW and recent work such as farmer support in Mid Devon. (Briefing paper here.)
Natural England (NE) did not attend as their work scope does not fit the enquiry. NE's role in water quality, licensing and sewage discharges is limited to those that are within, or may impact, protected areas such as SSSIs (Sites of Special Scientific Interest), SACs (Special Areas of Conservation), MCZs (Marine Conservation Zones).
The Environment Agency provided some details on their work with farmers
"The main River Exe and tributaries is one of the Defra priority catchments that the DCIS Project ART (Agricultural Regulatory Taskforce) is currently working in. We have 2 ART officers inspecting farms in the catchment, documenting non-compliances and agreeing action plans with farmers to bring the farms back into compliance with the regulations. We have only recently started work in this area so are not in a position to share any case studies at this time.
SSAFO (Silage, Slurry and Agricultural Fuel Oil) Regulations
Some of the key issues we are finding is with outdated and/or inadequate farm infrastructure for storing slurry, silage and agricultural fuel oil. Guidance for farmers on the legal requirements can be found here:
Storing silage, slurry and agricultural fuel oil - GOV.UK (www.gov.uk)
Information on the Defra Slurry Infrastructure Grant can be found here:
Slurry Infrastructure Grant - GOV.UK (www.gov.uk)
Farming Rules for Water (FRfW)
Many farms do not have up to date soil testing and are not planning their applications of organic manures and fertilizers to meet and not exceed soil and crop need, which can contribute to diffuse pollution.  Further guidance on the requirements of the Farming Rules for Water can be found here:

Farming rules for water from April 2018 - GOV.UK (www.gov.uk)
Applying the farming rules for water - GOV.UK (www.gov.uk)
Catchment Sensitive Farming (CSF) 
CSF officers are active in the Exe catchment and can provide free advice and guidance to farmers as well as signposting them to grant aid through Countryside Stewardship agreements.
Catchment Sensitive Farming: advice for farmers and land managers - GOV.UK (www.gov.uk)
Farmers may also find this short film regarding a pilot project (TARA) on the River Axe of interest, as the precursor of the current work we are now doing under Project ART:
Future farming in Devon's Axe catchment - GOV.UK (www.gov.uk). "
Background context
South West Water (SWW)
Environment Agency (EA)
The Environment Agency (July 2022) released its annual report on the 2021 performance by England's 9 water and sewerage companies, which showed overall performance fell to the lowest level ever the Environmental Performance Assessment (EPA). During 2021 the Environment Agency concluded 7 prosecutions against water and sewerage companies, and concluded 5 more during January to July 2022. Overflow data is published online. A recent government response suggests the money raised by prosecution fines might now be invested back into "water infrastructure".
Parliament's EAC published their Water Quality in Rivers inquiry report in January 2022, and the UK Government responded a few months later. The EA responded to the EAC 2022 report:
"…water quality in rivers is not good enough and improvements have flatlined over the last 10 years. Water companies, regulators, farmers and others must do more to protect it. We welcome the EAC's report in highlighting this important issue and the actions needed to improve things." 
The EAC's 3 main recommendations were (only key points here):
The Environment Agency must extend the number of substances it regularly monitors in rivers. 
The use of plastic in single-use hygiene products should be prohibited, with exemptions only provided for medical requirements.
Every community in the country should have access to waters—whether coastal or inland—that are safe for people to swim in without running the risk of falling ill.
Conserving our water catchment environments
The Mid Devon district is part of a number of South West England's river catchment areas. The EA holds detailed monitoring data on all of them.   
Devon East:
Devon North:
Somerset South and West:
Catchment Partnerships in Mid Devon and elsewhere take a catchment-based approach to management plans, knowledge sharing and cooperation between partners (such as for East Devon, which contains the Exe and Culm). The Creedy catchment hosts one of the last two Devon refuges of the native white-clawed crayfish, and a new initiative is under way to develop a partnership approach to safeguard this endangered species.  
Connecting the Culm is a fantastic partnership project that involves communities, including land managers and other stakeholders, in shaping a blueprint for future resilience and recovery, also engaging people in activities to understand and conserve the catchment.