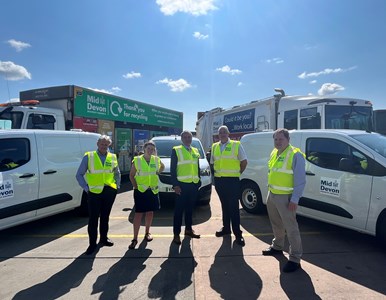 Electric Vehicles Join the Mid Devon Fleet
A new trio of electrically-powered vans in Mid Devon District Council's fleet will cut emissions by the equivalent of 11 tonnes of CO2 annually, by replacing fossil-fuelled vans that would have used 3,400 litres of diesel per year. Sustainable solar power generated at the Willand street scene depot will add a green boost as the vans recharge.
The new District Officer vehicles substitute old vans that were in service for 12 years and will now be sold. This latest procurement is only the beginning, as the Council will soon take on another 7 fully-electric vehicles, expanding its sustainable transport options across various council teams.
The Council declared a climate emergency in June 2019 and committed to Net Zero. The arrival of these electric vehicles represents a significant milestone on this journey.
Councillor Natasha Bradshaw, Cabinet Member for Climate Change, welcomed the new vans:
"Our move to electric vehicles helps to decarbonise our fleet in line with Mid Devon's climate emergency declaration and we will continue to invest in greener transport."
Councillor Josh Wright, Cabinet Member for Environment & Services, said:
"I'm so pleased to welcome these first electric van upgrades to the fleet – they are not just cleaner, they are more efficient, which means better value services for Mid Devon's communities."
With a clear vision and commitment to sustainability, Mid Devon District Council is actively implementing measures to minimise environmental impact and ensure a greener future for its community. Visit the Sustainable Mid Devon website to share and discover what Mid Devon communities and the Council are doing to make Mid Devon cleaner and greener, or sign up to our email newsletter for the latest sustainability news.