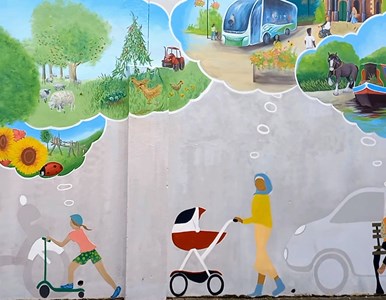 Events - Sustainable Tiverton

Find more details for all these events at info@sustainabletiverton.org.uk
The community fridge is back in the library in a new location. Look for us at the back of the library with a new glass-fronted fridge.

We know that users will treat the facility with respect and be mindful of others. We limit each person to five items per day, so that things can be shared fairly. Many thanks to MDDC and the library staff for supporting the fridge,, so that we can continue to collect and pass on good food surplus to our community.
Phoenix House Phoenix Lane, Tiverton EX16 6SA
| Days of week | Open hours |
| --- | --- |
| Thursday | |
| Friday | |
| Saturday | |
| Sunday | |
| Monday | |
| Tuesday | |
| Wednesday | |
At the Hub, Raymond Penny House this month
| Date of Event | Event |
| --- | --- |
| Tuesday 21st November | Climate Outreach Group |
| Thursday 29th November  | ECOE drop in advice |
| Wednesday 11th October  | ECOE drop in advice |
| Tuesday 5th December | Climate Outreach Group |
|   |   |
|   |   |
Other activities and locations:
| Date of Activity | Activity |
| --- | --- |
| Saturday 25th November | Re-Rooted Cafe @ St Georges from 11.30 |
|   |   |
|   |   |
| Thursday 7 December  | Litter Pickers AGM |
| Saturday 9th December | Repair Cafe @ Tiverton Library |
|   |   |
| Sunday 24th December  | Christmas Eve Re Rooted giveaway at St Georges (no Re Rooted cafe in December) |
|   |   |
|   |   |
|   |   |
The evening included project information stalls, Sustainable Tiverton exhibition, refreshments, and our Community Forum discussions. We welcomed members of the community, council representatives and councillors, and had an update from our chair and a video address from Natasha Bradshaw, the MDDC cabinet member for Climate Change.
We then split into small groups to discuss priorities for the community and for Sustainable Tiverton, and the role we can play in becoming a more resilient and sustainable community in the face of the climate emergency. A big thank you to everyone who came and participated in this Community Forum- and contributed ideas on post-it notes!
We have now collated all your ideas together now to produce suggested priorities for the whole community and for Sustainable Tiverton.
Priorities for the community:
·
Developing a circular economy
·
Improving education and communication about sustainability
· Listening to young people and acting on what they say
· Promoting biodiversity and looking after our rivers
· Enabling more local food and growing
· Improving housing quality
· Facilitating active travel and sustainable transport
Priorities for Sustainable Tiverton:
· Involving more people from all parts of our community
· Increasing communications and outreach
· Working in partnership with the councils, and other local organisations
· Scaling up our existing projects
Additional project ideas include:
· A library of skills to complement the repair café and ShareShop
· A regular market stall
· Cooking lessons for all ages
· A campaign to enable HVO (hydrogenated vegetable oil) in oil fuelled boilers
· An energy efficiency drive and advice project
· Baby sitting circles
Sustainable Tiverton Membership scheme
Become a member of Sustainable Tiverton CIC!

Sustainable Tiverton is a company limited by guarantee and like all companies is accountable to its members.  Membership is open to everyone aged 16 or over who lives or works in, or within 15 miles of, Tiverton.   
As a member you will get notice of our AGM and other general meetings, and be able to vote at these meetings, including the appointment of the Directors who run the company day to day.   For a membership application form, please e-mail committee@sustainabletiverton.org.uk
Friends of Sustainable Tiverton
New Friends of Sustainable Tiverton scheme

At the AGM in October, we launched a new scheme for people who would like to give regular financial support for our work. 
While we can sometimes get grant funding to support our projects, there are some costs, such as rent, insurance and IT for which we find it very difficult to raise funds.  As the range of our projects grows, it is increasingly important to have steady sources of income to support them and to make it possible to  go ahead with planning new activities  
If you can afford a few pounds a month to help us with these costs, please  e-mail committee@sustainabletiverton.org.uk and we will send more information. Regular donations of any size are very welcome. 
Net Zero Visions - Villages follow up
The Creation Hub day at Uplowman was a follow up of the Net Zero Visions Project for the villages around. It stimulated great interest locally with about 130 visitors for the information stalls, speakers, Sustainable Tiverton exhibition and locally-sourced fair trade Community Lunch. 
We hope that the day will stimulate many new ideas to take forward. If you  live in a rural area, and want to  join others to contribute to future plans and make a difference for ourselves and the planet, get in touch with the organiser of the day, Steph Packham at stephaniepackham92@hotmail.com  
There are lots of opportunities for you to get involved in Sustainable Tiverton

Be a regular project volunteer for  Repair Cafe or  ReRooted, 

Develop a new skill - become an equipment librarian for Shareshop, or learn to keep bees with  the Bee Group

Join in with one-off events such as 
Tree Planting Days 
Become a member or friend
Get a friend involved!  
Can you be a Sustainable Tiverton Director? We are looking at the skills we most need centrally - we would love to hear from people with skills to offer who can commit the regular time needed. 
Look at individual project details for who to contact below, or get in touch at info@sustainabletiverton.org.uk
NEWS FROM AROUND THE GROUPS.....
Give or Take and Apple Juicing 
October's Give or Take week was very successful with over 50 electrical items redistributed! - these are items which are often thrown away, contributing to landfill and wasting resources. 

The week was very busy with lots of things coming and going.

Apple Juicing day was cold but sunny. Sixteen volunteers helped twenty-one households to juice their apples. Lots more people bought juice from community apples, and yummy tea and cake from Gill,  listened to beautiful folk songs (thanks to Dave Graham for organising) and bought woollies from the Sampford Peverell Charity knitters!  There were lots of apple-themed conversations, too, with tips provided by participants on apple varieties and care for apple trees.
Altogether we estimate around 250 litres of apple juice was produced. All the proceeds from sales of juice and cake, together with some generous donations, go to Sustainable Tiverton.  Thanks to everyone for a very successful and productive event
Repair&Share -  Repair Cafe
Next Repair Cafe is on
 
Saturday 9 December 
9.30am-12.30pm 
at Tiverton Library
Drop in or pre-book a slot - email with details of the item needing repair to tivertonrepaircafe@outlook.com.
Come early in the session if you can- this gives our repairers more time to assess and work on your item, and you may be able to collect it later in the session.
Repair Cafe has lots of customers - we always need help, whether you have a repair skill or not.  
 For an informal chat about volunteering, call Gill on 07762 730847
 ReROOTed 
   
Cafe, Community Fridge, and Food Collections
ReRooted Monthly Community Cafe

Sit down lunch at St Georges Extension:
Saturday 25 November 2023
Lunch from 12,30pm Doors open from 11.30am for drinks and snacks. ReRooted cafe is on the last Saturday of each month
In recent months numbers at the cafe have picked up again in our slow recovery from Covid so please do come along and support us. All are welcome. We open at 11.30am for hot drinks (and sometimes cake!) and a period of socialising before food is served up at 12.30pm.

We did ReROOTed proud recently at the CAG Skillshare: 3 hot meal options and puds cooked from fresh! Plus £250 in donations!
Community Fridge
 

To ensure the smooth running of the fridge, volunteers will in future be present at all sessions, and the fridge will be open at specific advertised times.
It will no longer be open all library hours, so if there is no volunteer present please do not attempt to access the fridge as you will damage the locks
New times are posted in the Library and on Facebook Rerooted Community Fridge Tiverton. We have new volunteers to help us keep it open but can always do with more. 
You can also get in touch at info@sustainabletiverton.org.uk 
Please note there will not be a ReROOTed cafe lunch on 30 December, there is the Christmas eve giveaway instead!  
December 24 2023
4.30-6.30pm
St Georges Extension. 
To volunteer for ReRooted, contact us through our Facebook page Rerooted Surplus Food Cafe - Tiverton or email info@sustainabletiverton.org.uk and we will send you our rota. We have monthly team meetings too.
We look forward to hearing from you.
Repair&Share
- Share Shop Tiverton
ShareShop Development Worker
Our new Development Worker, Laura, has now started work with us. We are developing an online catalogue and lending systems for all the items donated so far, and we also need to recruit and train lots more volunteers! 
We hope to launch the library in early spring but we need your help. 
 If you are interested in volunteering regularly for this project email shareshoptiverton@gmail.com. 
We need volunteers to help us check, test and record donations, to train as session volunteers and to help us with publicity. If you have some time to spare we have a job for you.
We now have lots of camping equipment and are checking it all at the moment  - including tents, pans, sleeping bags, airbeds and camping mats, and even a camping toilet! 
We also have some items for parties  
 -reusable crockery, popcorn machine,  cupcake stands, karaoke machine. We would love more items for childrens or adult parties, equipment for visiting children or adults, and to add to our newly started 'newborn' section. 
Bring your items for donation to us at the following times:
Fridays 10am- 1pm and the Eco hub.
Tuesday 21 November or 5 December 10.30am - 12noon 
at the Ecohub
Saturday 9 December 9.30 - 12.30 at Repair Cafe, Tiverton Library 
Are you unsure if your item is suitable, or need larger items picked up?  Phone Catherine on 07763882955 to discuss what you have or make different arrangements for donating.
Tiverton Tree Team - get involved!

We are excited to have appointed a new Project Manager and Coordinator to support the Tree Team as we upscale our efforts and increase our impact on tree planting projects across the Tiverton area (10 miles radius). This exciting new chapter of the Tree Team will include large-scale planting projects, edible urban plantings and an array of other projects. Soon we shall be picking up our tools, gathering volunteers and connecting with landowners as we get charged up for the tree planting season ahead.
If you would like to be a part of this positive and exciting community that works together to plant trees whilst combatting the climate and ecological crisis, boosting mental health and shares some pretty exceptional baking then do get in touch with us via tivertontreeteam@gmail.com to keep up to date!
We'd love to hear what you can contribute whether it's land for planting, ideas, funding or volunteer time. 
 Climate Outreach Group (COG) drop in This month's  dates are
 
Tuesday 21 November
Tuesday 5 December
COG meets regularly on first and third Tuesdays 10.30am -12.30pm in the Ecohub in Raymond Penny House , Phoenix Lane.
At COG meetings you can come and discuss your concerns about the climate crisis, to meet other people  and to find out what we can do together locally, and join in activities which help our projects.
Tea and coffee will be available for a donation.  No need to book - just put it in your diary and turn up on the day. We will be glad to see you there!
Friends of the River Exe - next steps
Following the Festival in September, we are now moving on with a second set of River Conversations. Exeter and Exmouth meetings are before Christmas( dates below).
Tiverton River Conversion 2 in January - we hope to have all the details in the next newsletter.

Exeter - Thursday 23rd Nov - The Mint Methodist Church , Fore St Exeter 6.30 - 8.30pm. Speakers – Anne Keen volunteer for Friends of the River Exe on Citizen's science. Tim Dafforn & Anna Harrison - nature restoration at Killerton Estate, Richard Ward the Exeter Canoe Club  and  Harri Rose and Katy Shorten from Riveraction UK
Exmouth - Tuesday 28th Nov - The GWRSA, 3 Royal Avenue, EX8 1EN. 6.30 - 8.30 pm Speakers - Louise Swindell - Project Seagrass. Andy Tyerman ESCAPE End Sewage Conveys and Poollution Exmouth, Caroline Lewis - CSI group
Tiverton - January 2024 - date and speakers to be confirmed
Sampford Peverell Community Bees
Thank you to everyone who bought our honey and beeswax candles at the Apple Juicing day in Sampford Peverell last month. We sold all the honey (which is as delicious as ever this year) and most of the candles, so have renewed our funds, and even managed to make a small donation to Sustainable Tiverton for all the support they give us.
Last weekend we had our big clean-up day, scraping, boiling and blow-torching the crevices in the equipment we used this year, so we will go into next year with everything clean and hygienic. We have also managed to store a number of drawn frames, to give the bees a good start next spring.
Our two hives are now closed down for the winter, with just a small entrance for the bees to come and go on warmer days, and a good supply of honey stores, supplemented by a block of special bee fondant on each hive.
If you are interested in volunteering with us, email us via info@sustainabletiverton.org.uk.  
Teresa Butchers
Repair&Share
 - Skills Workshops
Repair Workshops  
Can you help us develop this project?
We are currently looking for people with
sewing skills
which they would be happy to pass on to others at informal sessions in the Ecohub.  We now have funding for sewing machines for people to use - many people just lack confidence and need a helping hand
We are also looking for 
donations of spare fabric
or shirts or skirts 
suitable for Charity shops which we can use for our workshop programme?
If you can help as a volunteer or with a donation contact Gill Gale at 
gillgale101@gmail.com
.or call in to the Repair Cafe
Would your club, church or community organisation members like to hear more about the work of Sustainable Tiverton? 
We recently gave a well-received talk to Tiverton Civic Society, and are happy to talk to other local organisations, and also get their feedback on what we do. 
To discuss having a talk for your organisation, please call Peter on 01398 332094 or email info@sustainabletiverton.org.uk
News from other organisations...  
Uffculme Community Fridge
Opening hours
9.30- 11.00 a.m. Monday-Friday
Uffculme  Community  Fridge container
Grounds of Uffculme Branch Surgery, Commercial Road.    Contact us for more information on hello@uffcommfridge.org.uk  
Please come and help us stop food waste - this is a community fridge and larder which is open to all. 
The only day we'll be closed over the holidays is Christmas Day 25th December - otherwise a warm welcome (and some good food) awaits!  
Uffculme Repair Cafe Saturday 16th December 10am to 12.30pm
Square Corner, The Square, Uffculme  Even if you haven't got anything for repair, do drop in for a hot drink and piece of cake - and a chat
More details -
 contact uffculmegreenteam@outlook.com 
Uffculme Warm Space 
Square Corner, The Square, Uffculme 10.30am to 3pm
Friday 24th November
Friday 8th December
Friday 22nd December
Home energy advice, free drinks, cakes, soup lunches (donations welcome), a warm and friendly space to meet others, bring your craft activities and save on your home heating bills. Internet access and recharging facilities for your devices.
Tiverton Volunteer Litterpickers
Love Where You Live –
                      – Help Keep Tiverton Tidy
We start at 10am every 2nd Saturday in the month,
finishing by 11.30am
There is no session in December. 
We would like to invite you, and anyone else interested in our work, to the Tiverton Volunteer Litter Pickers AGM on Thursday 7th December at 4pm in the Town Hall Mayoralty Room. The agenda will follow nearer the date.
Come as we reflect on 2023, look forward to 2024, and provide an opportunity to meet with volunteers and other individuals and organisations that have supported us during the year. There will also be tea and cake on offer!
All equipment provided for litterpicking
Contact: tivertonvolunteerlitterpickers@gmail.com, and come and join us. 
Mid Devon Wildlife Warden Scheme - Volunteers for a new Hedgehog Hub?
We are exploring ideas of how we can support a wildlife rehabilitation station for hedgehogs and other wildlife in Tiverton. If you would like to register your interest in the early stages of this voluntary venture, please get in touch via wwcoordinatormiddevon@gmail.com. 
 If you would like to volunteer to be a wildlife warden, or need some extra support with wildlife projects in your parish, we can arrange training and signpost you to experts. 
Energy Outreach Project - Get 1-2-1 advice or book a presentation on saving energy
This winter we are working with Citizens Advice to meet individuals or households and provide invaluable energy advice that will help you or your community to save money and keep warm.
Along with this advice, our DCT Energy Champion Martin Rich is available to come to your community for a free community energy presentation to provide advice to people in your area. These can be held in community spaces such as public libraries or village halls. This is especially beneficial to the community if you are a Parish, District or County Councillor and want to address high energy costs. 
If you would like to receive 1-2-1 advice or arrange a presentation, please contact martin@devoncommunities.org.uk or call 07984 001542. 
You can also contact Martin if you need advice on undertaking energy audits, funding energy saving measures or other help with cost reductions. All events and advice are completely free. Further information may be found below, including any upcoming community events.
Find out more at https://www.devoncommunities.org.uk/projects/energy-outreach-project
Best wishes,Devon Communities Together
MID DEVON REGULAR FREE DROP IN ENERGY ADVICE CLINICS
Sustainable Tiverton Ecohub – Energy advice drop-ins 
Wednesday mornings 4th week of the month, 10 – 12.00
Thursday afternoons 3rd week of the month. 2 - 4pm
Information on other ECOE drop in sessions can be found on https://www.ecoe.org.uk/healthy-homes-clinic-information/
On this site you will also find information on current grants and on retrofitting insulation. 
Planet & People launches a new Planet Action Workshop for schools.
 'There's No Place Like Home' is a fully-funded half day workshop that offers a positive and age-appropriate introduction to climate change that empowers students to create a better future for planet and people. It inspires students to co-create a book for your school to encourage others to act for the planet.
If you are a parent or teacher connected to a school in Devon that would benefit from these curriculum-linked (to take the pressure off teachers!) and well-respected environmental education workshops (we have reached over 9000 students since Nov 2021), please get in touch via hello@planetandpeople.co.uk. We work hard to fundraise to ensure that our workshops are accessible and available to all. We are very grateful for all donations given (via the 'donate' button on our website), please consider making a contribution as we bridge the gap in environmental studies in schools. We also support eco councils and committees through our Environmental Healthcheck and can offer teacher training days. You can see more on www.planetandpeople.co.uk. 
Community Action Groups Devon
Are you interested in what's happening across Devon to make our lives more sustainable? For more information about the Devon Climate plan and latest news from Devon Climate Emergency, go to https://devonclimateemergency.org.uk/.  You can also sign up to their ,mailing list to receive a regular newsletter.
Sustainability advice for businesses
Enjoy reading this Newsletter? - Why not pass it on to a friend, and invite them to subscribe to get their own copy. 
It's easy to sign up using the link on the 
Sustainable
Tiverton website 
CONTACT US
You can contact Sustainable Tiverton using this email link
'Sustainable Tiverton is always keen to hear from people with new ideas they would like to share'
Find more details for all these events at info@sustainabletiverton.org.uk