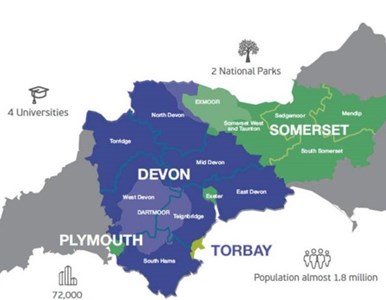 Free business advice and training
Free support for business and agriculture
The Heart of the South West Growth Hub provides independent diagnosis and referrals to business support schemes and sources of further support. We are the first point of contact for businesses in the Heart of the South West LEP area wishing to develop and grow.
Cost of Living Resources Hub
Find information, top tips and links to schemes and further support, including renewable options.
Farming and Food Resources Hub
Funding and project opportunities for the farming, food and agricultural sectors.
Free advice and training for Heart of the South West enterprises
The Thrive project - thanks to European Regional Development Funds (ERDF) - supports a range of business advice, support and training completely free to eligible businesses in the Heart of the South West area. Sole trader, micro business or limited company in Devon, Plymouth, Torbay and Somerset (excluding BANES) should contact us now to see if you are eligible. 
Source: HoSW Growth Hub
Digital training courses
The DESME project, which is funded by the European Social Fund (ESF), offers bespoke training to enable businesses to make the most of readily available digital tools.
The project also offers a Digital Course Finder, an extensive online database of digital skills training courses delivered by training providers across the county, as well as online digital skills courses.
Find out more about DESME, the Digital Maturity Index and Digital Course Finder. 
Source: Devon County Council (news).