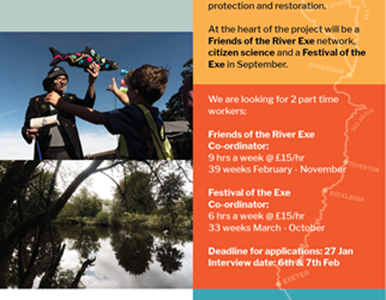 Event Coordinator and Festival of the Exe Coordinator
The River Exe Transition Partnership will link 3 Transition Town groups along the Exe (Tiverton, Exeter and Exmouth) to develop sustainable and equitable use of our river from source to sea. The partnership will create a 'Friends of the Exe' community, to celebrate the ecosystem it supports, and inspire a deeper relationship between communities and the river, based on reciprocity and care. 
The group aims to respond to the concern and desire to improve the ecological quality of the river, its tributaries and the nearby beaches and ocean by focusing on monitoring water quality. In September, FORE / the partners will promote a vibrant 'Festival of the Exe' that aims to increase awareness and understanding of the impact of human behaviour on the river and convey key Transition themes on reducing damage and promoting resilience for humans and biodiversity.

The funding will enable the partnership to recruit a part-time Coordinator and part-time Event manager to co-ordinate these activities - please see information on the image here. 
Source: Sustainable Tiverton.