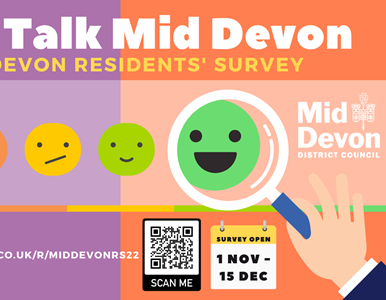 Let's Talk Mid Devon - Residents Survey 2022
Let's Talk Mid Devon - Residents' Survey 2022
Mid Devon District Council has launched a residents' and budget setting survey, open until 15th December. Mid Devon Residents' and Budget Survey 2022 (surveymonkey.co.uk)

Last year, residents emphasised how much they care about the environment, and 90% felt it fairly important or very important for the Council to tackle climate change. The majority of comments about protecting budgets focused on waste and recycling services. Other comments included:
"set higher standards for new build developments (houses with more outside space, electric vehicle charging points, solar panels, heat exchange heating systems)";
"continue to address the issues of climate change".
Since the previous survey, Mid Devon District Council has:
1.      With the help of volunteers, planted 615 native trees on Council land, made possible by Devon County Council's Emergency Tree Fund, a generous grant provided by The Woodland Trust.
2.      Hosted over 50 new fruit trees plus a hedge of fruiting shrubs planted by Tiverton Tree Team volunteers at the new Tiverton Community Orchard.
3.      Trialled and launched the new Bin-It-123 home waste collection cycles to boost recycling, aiming to save over 3,000 tonnes of greenhouse gases every year.
4.      Started works at Cullompton on modular built Zed Pod homes with superior energy efficiency and solar power making them capable of net zero carbon performance.
5.      Retrofitted 2 Lapford council homes with filtered heat-exchange ventilation as a research trial for future improvements. 
6.      Achieved planning permission for ultra-insulated, high comfort, climate adapted Passivhaus affordable homes at Tiverton.
7.      Boosted energy efficiency at the multi-storey car park in Tiverton and all 3 district leisure centres by investing £300k from the Public Sector Decarbonisation Scheme (PSDS) in measures such as smart LED lighting. Now trialling automated LED lighting at its Phoenix House headquarters.
8.      Won a £2.8million PSDS bid for decarbonisation projects at Lords Meadow and Exe Valley Leisure Centres (projects now started).
9.    Ordered 10 electric vehicles to replace diesels on its fleet.
10.  Secured 10 new rapid electric vehicle chargepoints for 5 car parks at Crediton, Cullompton and Tiverton.