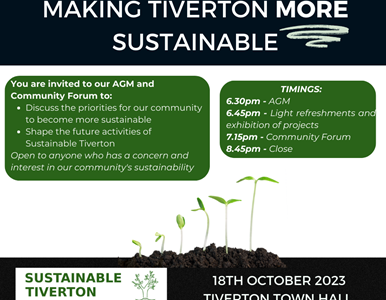 18 Oct 2023 Making Tiverton Communities More Sustainable?
Sustainable Tiverton AGM and Community Forum.
Tiverton Town Hall, Wednesday 18 October 2023, 6.30pm – 8.45pm.
* Refreshments * Exhibition * Discussion *
All welcome!
How can we make Tiverton a sustainable community?
– discuss the priorities, and help shape the future.
6.30 - 6.45pm  Formal AGM
6.45 - 7.15pm   Tea and cake, ST Exhibition and Project Stalls and Information
7.15 - 8.45pm Community Forum including:
Video address from Natasha Bradshaw, Mid Devon District Council's Cabinet member for Climate Change.  
Current information.
Discussion groups. 
 
SOURCE:  Sustainable Tiverton.