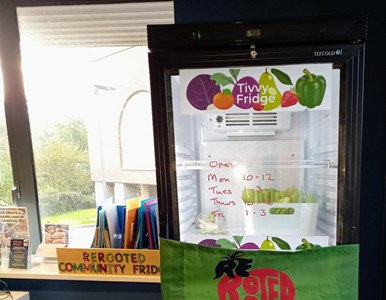 Mapped - Devon's Community Fridges
Ensuring surplus food isn't wasted
Community fridges around Devon are helping ensure that surplus food, mostly from shops and food businesses, is finding a home quickly, rather than be wasted. There are 25 community fridges in Devon, collectively redistributing an estimated 150 tonnes of surplus food, worth almost £500,000, each year. And to help you find one nearest you, we and other partners of Recycle Devon have launched a new community map to show you where they are.
The scheme relies on volunteers giving up their spare time to ensure that surplus food isn't going to waste. The food in the fridges is free for people to take and it's collected primarily from businesses. It may have past its 'best before' date, but food in the fridges is before its 'use by' date. Some community fridges take contributions from households as well, such as home-grown gluts, but always check with your local community fridge volunteer as to what they can and can't take, before dropping anything off.
You can read more about it in the story here.
SOURCE: Devon County Council (news here)