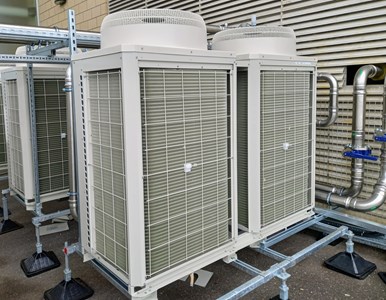 Mid Devon District Council taking action on the Climate Emergency
Mid Devon District Council is determined to take positive action to address the climate emergency in every aspect of what we do – in Council strategy and working, in how we operate, and how we support you - our residents and business communities.  
How we lead on strategy and by working in partnership
The Council is reshaping its planning policy to help drive green growth and promote adaptation measures in new and retrofit projects.

Climate is our top priority for the Local Plan review (Plan Mid Devon).
The new Climate Emergency Planning Policy Statement makes it easier to deliver futureproofed, comfortable dwellings that are affordable to power.
Master planning for schemes such as the Culm Garden Village show off Mid Devon's power to lead on sustainable development.

The Council's Housing Strategy has climate-linked targets to help raise standards in Mid Devon's private and public sectors.  
The Council is part of the Devon Climate Emergency partnership - Mid Devon communities and the Council helped to make the Devon Carbon Plan and we are helping to achieve it.
Partnership work on local initiatives such as Connecting the Culm - a strategic water catchment a project all about healthy rivers, climate adaptation and a community vision for the future.
How we operate
Our new Procurement Strategy 2023. Because how we do business as a Council influences local commerce and associated emissions.
We have projects to decarbonise our leisure centres. The £2.8m funded project installing air-source and ground-source heat pumps at Lords Meadow and Exe Valley is almost complete, and we have bid for more grants for Culm Valley Sports Centre.
We will revolutionise building management systems at Phoenix House to boost energy efficiency and save costs. We are already installing responsive LED lighting at our headquarters.
We are about to take on 10 new electric vans to cut transport carbon.
The Council saves carbon, cuts traffic and boosts productivity by supporting flexible, hybrid work arrangements.
How we support you
Mid Devon residents are great at recycling - and thanks to our new bin-it-123 collections, Mid Devon's recycling rate is now 56.56%, compared to 52% last year. Better waste management saves energy, saves resources and cuts greenhouse gases. (With everyone's help, that could save over 3,000 tonnes of emissions every year!) 
We celebrate and promote the great work done by our community groups and eco champions - like Uffculme Green Team, Sustainable Crediton, Sustainable Bradninch and the Tiverton Tree Team. The Council was proud to host a huge mural of Net Zero Visions at Tiverton Pannier Market, a community art project led by Sustainable Tiverton. 
We publish news about local green events and activities online - plus tips on saving energy, doing your bit, or where to find advice. 
Our team promotes local food producers, networks and outlets e.g. farmers' markets, Food and Drink and a Field-to-Fork campaign. 
The Council delivers green business rates relief on behalf of the government: exemptions for renewable energy equipment and battery storage.  
We will host 10 new rapid car chargepoints in Council car parks this year. 
We have campaigned to get a rail station at Cullompton, as a hub for more green travel options. 
The Council continuously invests to maintain, insulate and retrofit our housing stock, and our new Council homes will be Net Zero, super-insulated, climate adapted Passive-House and Zed Pod homes.