Electric Vehicle Chargepoints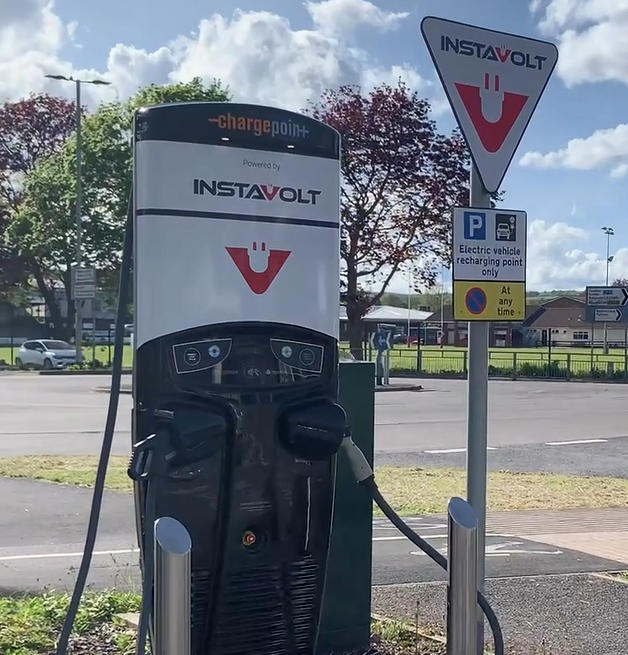 An overview of Electric Vehicle (EV) charger provision in Mid Devon, and what Mid Devon District Council is doing in relation to ultra-low emissions vehicles (ULEV).
Mid Devon District Council (MDDC) has encouraged the uptake of ultra-low emissions vehicles (ULEV) and charging infrastructure. The Council even hosts Electric Vehicle chargepoints on its own land for public use. Here are answers to some frequently asked questions on the topic. 
How many EV chargepoints are there in the Mid Devon district? How do we find where chargers are located, the type of charger and whether it is working? 
Current EV charger provision across the country can be viewed on the interactive ZAP-MAP showing details such as charger types, networks and status. 
Devon Climate Emergency recently published a map of existing and planned chargepoints in Devon.
How many public EV chargepoints does MDDC host on their land? 
At the time of writing, MDDC was hosting 6 chargepoints at 3 sites (rapid units with 2 chargepoints) with plans to introduce 10 more chargepoints at 5 sites (rapid units with 2 chargepoints). 
Charger type 

No of Chargepoints (CP)

Sites

Slow
0
0
Fast 
0
0
Rapid or higher rated
6

Crediton: Lords Meadow Leisure Centre. (1 rapid unit, 2 CPs).

Cullompton: Culm Valley Sports Centre. (1 rapid unit, 2 CPs).

Tiverton: Exe Valley Leisure Centre (1 rapid unit, 2 CPs).
Mid Devon District Council will host a new set of 10 new charging bays installed at public car parks in Crediton, Cullompton and Tiverton, all funded through the joint-EU funded Deletti partnership. These new rapid chargers will be easy to use, accessible, and run on 100% green electricity. The installation process will begin by the end of 2022. 
Mid Devon District Council's Climate and Sustainablility Specialist, Jason Ball, said:
"Councillors are keen to make sure Mid Devon continues to provide a growing network of car charging bays. This boosts driver confidence as they travel the district, knowing they are never far from a charger. As a local authority, we can help to drive the transition to ultra-low emissions vehicles, and it is great to attract this government funding as partners in the DELETTI project."
DELETTI (DEvon Low carbon Energy and Transport Technology Innovator) is a European Regional Development Fund (ERDF) part-funded programme that aims to continue the low carbon transport and energy transformation, through the expansion of electric vehicle charge points (EVCPs), solar carports and developing new, local energy models. MDDC joined in with phase 2 of the DELETTI project. 
How has the Council funded the EV chargepoints on their land? 
The Council hosts accessible charging bays at the sites listed earlier. All these chargepoints are available for community benefit, i.e. public use. Capital funding thus far has all been from the supplier / operator, so the Council has not had to invest any costs in the chargers. The lease contract with each supplier / operator means that they have full responsibility for all operational costs and maintenance, so the Council has no running costs for the EV chargers.   
How much income does the Council raise from chargepoints on its land? 
The Council publishes financial accounts including all revenue on a regular basis. The amount of revenue raised from car parks and chargepoints will change from year to year, which makes it impractical to provide estimates or generalised statements. 
What will the next Council investments be in ULEV and chargepoints? 
Please see above. The Council set itself a target to have at least 8 units (with at least 2 at each main town) and is set to achieve this target in 2023. The Council proactively seeks to realise opportunities where it can, to help meet demand where practicable. No published budgeted plan at present, except for those mentioned above. 
What strategy or policy does the Council have on ULEV and chargepoints? 
Relevant policy includes Planning Policy such as the Local Plan and related documents (such as the Non-Statutory Interim Planning Policy Statement - Climate Emergency; and the Air Quality Supplementary Planning Document) and the work it does to deliver on national planning policies, regulations or requirements. For example, there is now a minimum requirement for vehicle charging provision for certain types of new built developments. No published ULEV strategy at the time of publishing this article.